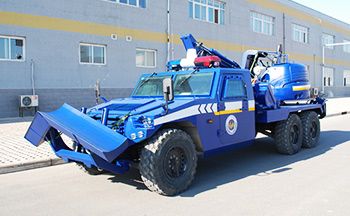 Intelligential light high-motorized emergency equipment can offer a whole series of solving project for natural disaster, accident, public health, society security etc., which can meet the requirement of highly uniform between usual exercises and emergency. The three big systems of communication and command, rescue, logistic support are included in the equipment.

High-mobility
Strategically, the equipment can meet the requirements of remote mobility for transport plane and helicopter, highest speed of vehicle is 130km/h, endurance ability is 900km, the ability of self crossing land can meet tactical mobility, has the performance of wading and cross no-road condition, can adopt a various of complicated, barrier, no-road conditions, ensures rescue to arrive at the scene right away.

Standardization and Modularization
A whole series of vehicles has a general series of spare-parts, which makes it is easy to supply. Uniform undercarriage and linkage ensures modularization, which makes it easier to repair and maintain.

Serialization, Combination
Equipment canboth work independently and rescue combinational. The equipment with abilities of barrier breaking, rescuing, man-machine coordination, and self-protection can work cooperatively through equipment combination and matching, to supply different solving projects for disaster rescue of different type and size.
The equipment is a multi-functional rescue and barrier break vehicle integrating the functions of soil pushing, compaction, lifting, cutting, digging, breaking. Fast exchanging of working devices can clean landslide, falling stones and open a new road very soon, when the road destroyed during disasterhappening.